What most people who know me and probably the ones who don't would tell you that I have a perverse love for icky, scaled and cold-blooded creatures called reptiles. Not that I loved them all! haha I just like snakes and monitor lizards, some crocodiles and skinks and some iguanas I think. They have always fascinated me more than any other creature. The manner in which such an animal could undulate and crawl and of course how they look has always been a source of constant amazement plus our seeing them more on our TV screens rather than up close seems to put them in a legendary state. I have to confess, I once caught a skink when I was a kid and actually kept it inside a plastic container for several days or so but I felt very guilty when he was slowly becoming lethargic and not eating the dead flies I was trying to feed him hahaha. Talk about animal parentage and care when I never had a talent for them hahahahaha.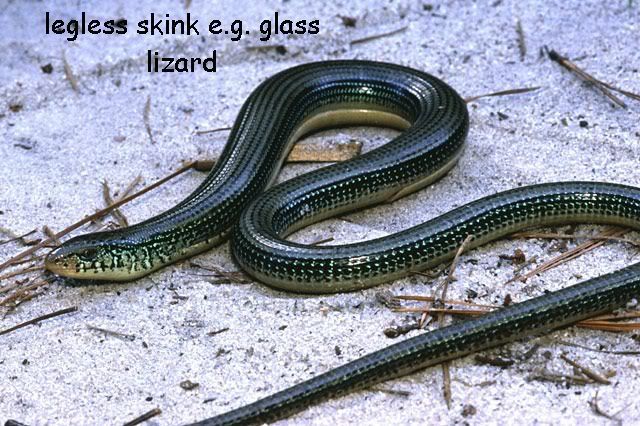 In general though I am always enthralled by the mere thought of the existence of animals that are beyond the annals of biological listings and I have a perverse desire to see a creature yet to be given a scientific name or a classification for that matter hehe...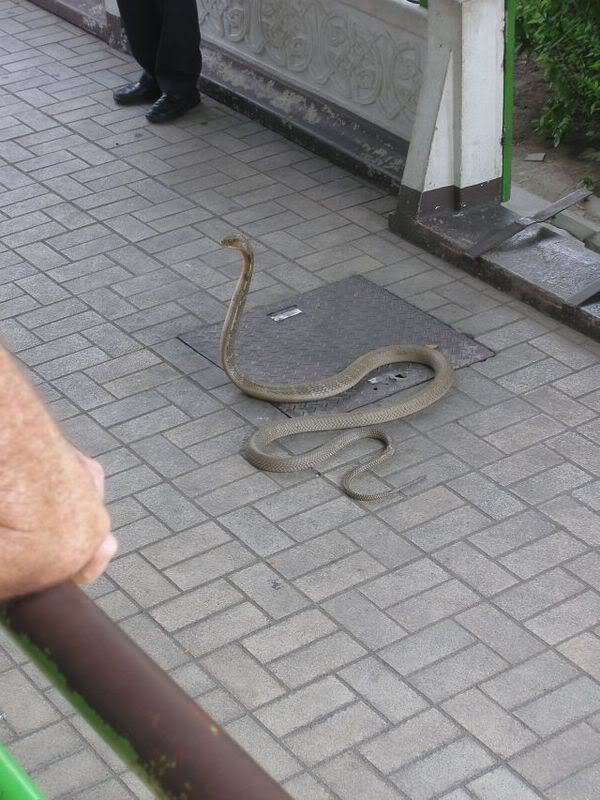 Ok I am blabbering again. Going back to my topic, my recent trip to the Land of Smiles gave me the opportunity to visit the famous Queen Bavmordala errrr Saovabha Snake Farm in Rama IV Road, across from Chulalongkorn Hospital in Bangkok, Thailand. I was in a sour mood that day but it all went away when we came in and looked at the glass and metal cages filled with my slithering friends hehehe. There was a short slide presentation before the actual demonstration show where the guide had his assistants take the snakes out of their cages and actually released them without iron bars or wooden stilts to separate them from us! The audience did not conceal their awe.
We had the most horrible seats because we were at the back but of course I am not without any form of resourcefulness. I noticed that the assistants actually went to the back taking the snakes with them so I took a position near the back and charmed the assistants to give me a nice view of them reptilians and I snapped away haha oh well the first few pics are from our bad position and I could actually see that my camera has wonderful underestimated zooming qualities hahaha.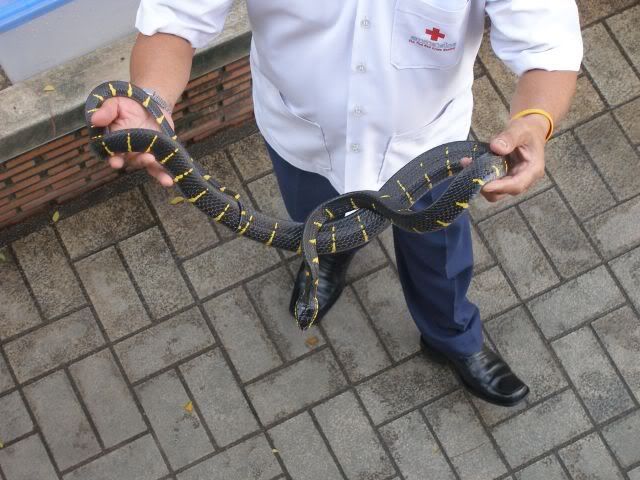 The whole shindig showcased the different and more known snakes throughout Southeast Asia and most especially Thailand. It was a disappointment not to be able to see legless skinks and giant lizards but then it is not called a reptile farm but a snake farm for nothing hahahhahahaha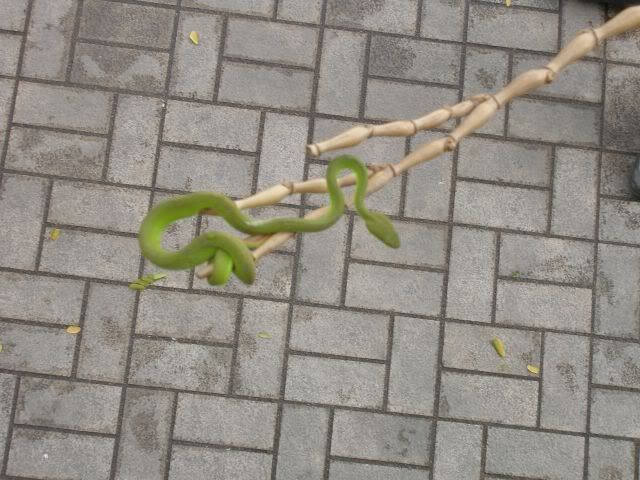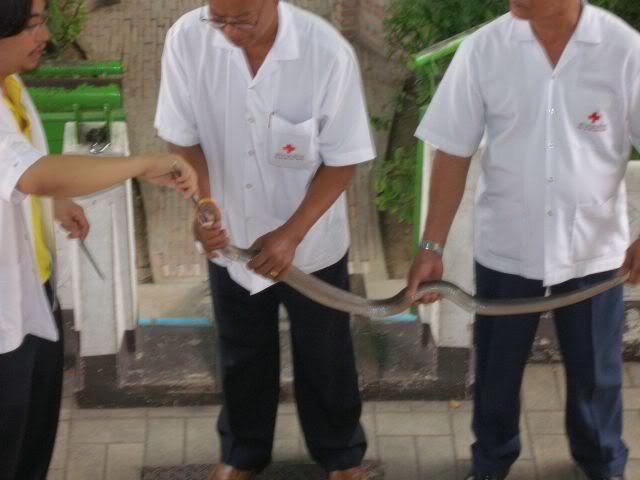 I realized that no matter how much I liked these creatures I could never muster enough courage to touch one haha I mean there was a special part of the show where they allowed the audience to indulge and touch a big, apparently harmless python and have images snapped away. I never even moved near the crowd except to take my partner's photo of him with the enormous snake haha I don't know why but perhaps some deep-rooted survival instinct or some FLEE and LIVE instinct factor in me made me cringe at the sight and thought of the creature round my neck and my hands touching it yech!!!!! well not that I am not used to other kinds of elongated and more stimulating creatures hahahahha