Joko Suprianto, Susi Susanti, Ye Zhaoying, Dong Jong....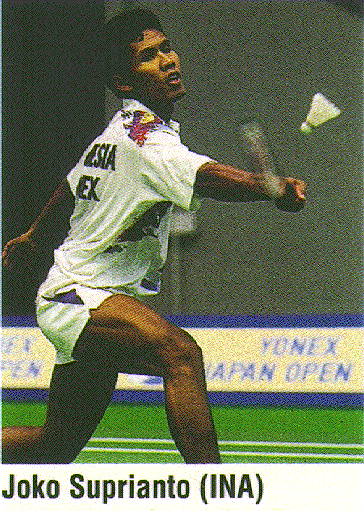 These were the names that peppered the sporting television on the first few moments of the passage of the H.M.S. Winklergirl over the ocean of her sporting obsession of that lovely game called badminton. Somehow the sight of a bird-like mass being hit back and forth over the net seemed visually beautiful to me. There was so much artistry, power and intellect in a badminton court. I was intrigued when I saw it on television and hooked when I saw a live match in some hot, smelly gym. I knew I had to try it.
I will never forget the brand of my first racket. It was a 6$ Kawasaki which sounded more like an automobile brand from Japan rather than something you used to hit shuttlecocks with. Shuttlecocks are the balls used for badminton, theyre composed of goose feathers and cork by the way. My racket did not last very long though given the price-range. But cheap equipment or not, it was my first step onto a love-hate relationship with a physically challenging yet gracefully artistic sport. Several strings of rackets after and several strings of broken strings later LOL i was unbeatable on court...whether I played it in the backyard or on the gym.
My biggest challenger was probably my male cousin because he was used to the sheer physical power from playing tennis which employs a heavier racket and therefore as a result makes him used to generating more force from his trunk to his forearm to his wrist to the shuttlecock when he did play badminton. Oh the matches that we had was enough to put marathoners to shame! He was more powerful but I was smarter and had the stamina for the longer matches. I cannot remember our head to head matchup statistic but I would guess it is pretty close. Now though because of the sheer number of players who play the sport and the pool of talent, sometimes when I run into a specialist, or someone who plays it for money or in the national competitions they make me look like an amateur. I would guess I can hold my own against them for a couple of minutes but the sheer hours of practice they put in place them at a considerable advantage over me. Of course though when I run into someone who just started playing the game a year or three ago, I can easily whip his ass.
Of course like any other endeavor I plunge at early in life, it caught the disapproval of my father. He openly told me he did not like it. He wanted me to play tennis. I would buy my own equipment with my own money and never asked anything from him. There was one point where during an argument he got too physical and broke all my rackets because he was so angry. It was traumatic for someone who loved the sport. Well I will not delve into the details anymore but this is also one reason why I never try to level with my father....
Why did I write about badminton? Because for the first time in more than a year I will be picking up a racket again and so naturally I had to shop for new shoes and socks and bag etc LOL what else I'm still a girl!!!! Fitness-wise I have to stop dieting!!! Well I cannot totally stop it but I have to mix a little exercise to continue being slim, gamine and taut and maintain it for a longer time. There is no other way to enjoy being fit again than be in the arms of an old lover. Sometimes I get tired of him, I tell him to go away and leave me alone but I am always one who never forgets him. Badminton and me will be together forever, whether I am in Shanghai, Saigon, Saipan or Sulawesi....My body is his to worship and his arms are mine to grapple with....