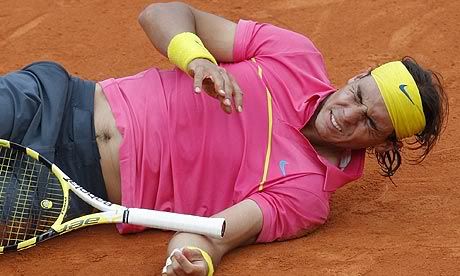 Since when have we heard of a French Open in its second week without the Spanish matador, and King of Clay, Rafael Nadal? Ages probably!!!!
Well yesterday Sunday night in the Philippines, straight from live television feed in Paris, the tennis conquistador was finally vanquished! This after 31 consecutive wins on the red dirt in Paris, which meant that he won four French Opens and three matches in this year's tournament.
His conqueror? Robin Soderling from Sweden????? know him much???? ahahahah I only know he was seeded in this tournament and he is on the Swedish Davis Cup tournament although he did scare Nadal in the 2007 Wimbledon tournament in an earlier round match there....
Well all good things have to come to an end. We all knew Nadal would eventually be conquered one way or another as the years go by. It's inevitable...there will always be a chink in someone's armor in the wicked world of tennis and not even the top players are invulnerable to this possibility!
The positive thing tennis fans can derive out of this would be this will open the road for Roger Federer to win the Open now considering that his greatest threats for the past couple of weeks for the Roland Garros crown, Nadal and Novak Djokovic, have both been eliminated. This is ALSO history in the making folks as this is the only Slam that has eluded Roger throughout his career. I hope he comes through as I love historic hallmarks! Hahaha
BUT of course I always love an underdog to figure in the final!!! I think the odds will be with Andy Murray and it will certainly be interesting for both of them to reach the final as they are on different side of the draws!!!
This French Open is quite the gastronomic treat and I will be home in time to watch some of the quarters all the way to the final!!! WHEW LOVES IT!!!!
Serena Williams is still in the women's tournament and I want a Dinara Safina and Serena final HAHAHA !!!! Hahahahaha...