One of my fondest memories when i was a kid was forays into the dark, bright, places called moviehouses. Those were momentuous events, walking through the decrepit alleys of the movie theatre with mom or dad or both. Struggling to find a seat....(Now why don't they ever consider making the act of going to the seat of your choice in a theatre as comfortable as 1-2-3!!!!) Of course the creme de la creme of the occasion was the events in the big screen and the stories they depict.

One of my most loved screen attractions was the 1986 fantasy "The Boy Who could Fly." It was a story of the beautiful connection between two young teenagers, a girl and and a boy who was coping with different traumatic events in their lives. The girl along with her brother was dealing with the passing of their daddy and adjusting to life in a new home and new neighborhood and new school. The boy was fighting demons that plagued him, his parents had died in a plane crash when he was really young and had resulted to him being apparently autistic.
They lived next door to each other and much of the communication was done from their windows which was so adorable. Accidental and intentional glimpses of each other. Hi's and hello's flying through the gap between their houses...This was such a cute scenario which really gave me a first glimpse of attraction between the opposite sexes. And I guess it was real innocent young love too because it seemed so intenseand the characters certainly made it looked like they had no idea what they were feeling. Just a certain warm glow whenever they saw each other and the yearning for the other's company when they were not together.
Eventually the girl later learned that her boy-crush had the uncanny ability to fly. But then I think that this was only spice for an already beautiful plot and it helped too! Injecting fantasy to an already wonderful movie is always good for the young audiences.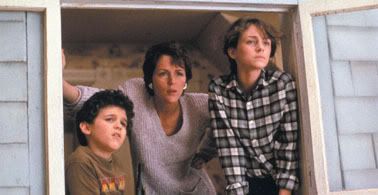 Of course the casting of Fred Savage as the girl's younger brother helped a lot in the cause of the movie booking a place in my favorite movies of all time. Fred Savage is one of my most beloved child actors and I have slept many a Tuesday nights watching his series "THe Wonder YEars" but that will be in another blog entry I hope! hehehe....But i loved Fred Savage and he was so cute and adorable in this flick so his presence helped much...
I could connect very well with the film. It made me realize that connections are possible between two people who come from different walks of life. Traumatic events are not a stumbling block to being intimate with other people and should never be. Plus it made me realize that when you let imagination run wild, anything can happen. It is never impossible to dream to sometimes get away from the realities of life and never have to be called eccentric or weird. There should be no boundaries when your mind flies!

Many a night after I saw the movie I envisioned myself being whisked away by my boytoy through tall treesand buildings and breezing through the sky with abandon...Haha shameless for a young child I know LOL
But i shall always remember that I am capable of flying for as long as no one clips the wings of my mind and destroys the antennae of my imagination. For as long as the winds of fantasy are there to help me glide I shall never ever forget how to fly in the realms of my mind....:)